Support our Research and Conservation efforts
The smile of the dolphins and the song of whales are 20.000.000 years old! For over 4 millenia they have been "impregnating" the Greek civilization, through art and science, but also through myths, legends and even the dreams of Greek people.

The Greek Seas are unexpectedly rich when it comes to marine life. Who could imagine that large whales like the sperm whale are permanent residents of the Greek waters. Nobody was aware of Moby Dick's presence until the Pelagos Cetacean Research Institute discovered the sperm whales off south Crete and later in the Ionian Sea and made them known through the media.

Pelagos Cetacean Research Institute is a Greek, scientific, non-profit organization, committed to the research and conservation of dolphins and whales and of their natural environment in Greece and the Mediterranean Sea as a whole.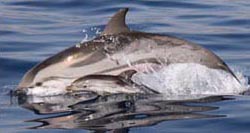 Help our on-going efforts to conserve theses animals and keep them alive and smiling in the Greek waters. Contributions from supporters like you can help us continue the necessary scientific work for the conservation and sustainability of the most valuable pieces of our natural and cultural inheritance.
There are four alternative ways to support us:
1st Way

Click on the icon to the left to make a donation with your credit card (any VISA or MASTERCARD) or without a credit card, through a safe Winbank easypay method at Piraeus Bank. Once you enter the Winbak easypay website, click on the button "Next" to enter to the webpage for the donation to the Pelagos Cetacean Research Institute, without having to register (no username or password needed).
2nd Way

If you are willing to obtain a new credit card, then choose the card "Win for Life" from Piraeus Bank, and fill in your application, selecting the Pelagos Cetacean Research Institute as the organization you wish to support. Applications can be submitted online by clicking
the icon of "winlife visa" to your left
, or at any Piraeus Bank branch located near you. This way, with
every one of your purchases
and
with no other charge,
Piraeus Bank will
automatically
return a small amount or your buys and your charges, to Pelagos Cetacean Research Institute. The Institute will send you every year a receipt and wil thank you note for your support.
3rd Way
Complete and print
this application form
to help with a bank deposit or a fast payment and send it to the Pelagos Cetacean Research Institute.
4th Way

Directly contact the Pelagos Cetacean Research Institute either by a short
e-mail
, or with your phone message at +30-210-8960108.


No matter how big or small is your support, it is very important for the continuation of our conservation efforts.