You can contribute too,
to the conservation and data collection of the cetaceans of the Greek Seas!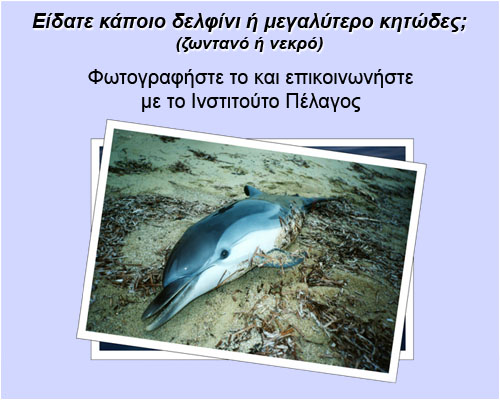 For any information regarding live or dead cetaceans, please contact the Pelagos Cetacean Research Institute
via e-mail at: pelagos.info@otenet.gr, or by calling to: (+30) 210-8960108,
or

fill now

the on-line report form
Guidelines for recording and reporting observations of cetaceans in Greece
OBSERVATION OF LIVE CETACEANS
1) Take as many good pictures as you can, in order for scientists to be able to identify the species.
You may already have pictures from older encounters with dolphins or other cetaceans, but you might not know their great scientific value!
2) If you see sperm whales, try to capture the right and the left side of their dorsal fin. Also try to keep a distance behind the sperm whale, in order to capture the tail (flukes) out of water just before the animal starts a deep dive. In this way, the Pelagos Cetacean Research Institute may recognize the individual(s) that you observed (which has a name in the
photoidentification
catalogue that we maintain ) and be able to let you know when and where this individual whale has been previously observed.
3) If you can, try to take some video.
However, the pictures are more important since they have better resolution and sharpness
.
4) Note the time and date of your observation.
5) Note the exact place of the observation (GPS coordinates, or your approximate position on a map or GoogleEarth, or the distance from your departure point and your final destination, or the time after your departure together with the speed of your boat).
6) Send all the above at Pelagos Cetacean Research Institute via the
page of on-line report
in this website, or via e-mail at
pelagos.info@otenet.gr
, or by calling to:
(+30) 210-896010
8
.
OBSERVATION OF DEAD – STRANDED CETACEANS
1) Take as many good pictures as you can, which will be the evidence even if the body is lost or drifted. Capture mainly the entire head from a close distance and with open mouth, if possible,
so as its teeth to be obvious
(or the positions of the teeth, if the teeth have fallen off)
. Also take pictures of the
lateral part of the animal
from many different angles (so that colouration patterns are visible)
and the abdominal part, so that the
genital slit is visible
.
2) Try to measure the total length with a
a stretched tape measure, in parallel with the animal
, from the edge of the beak
until the slot (notch) at the middle of the flukes
,
and not until the edge of the flukes
. If you have no measure tape, use a rope and measure the rope once you have returned to your base. As a last option use your feet as measuring tool.
3) Immediately contact Pelagos Cetacean Research Institute at
(+30) 210-8960108
, in order to take (if necessary) samples from the animal.
4) Finally, please fill the
online-report form
, or fill the
relevant form as .doc
(after dowloading it) and send it by e-mail at:
pelagos.info@otenet.gr